The Perfect Tool for Your 1-Day PD Event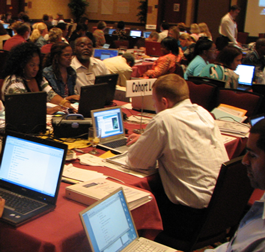 With the ASAP InBasket, you get:
An online interactive assessment that simulates a day-in-the-life of a school principal – experiential learning for maximum impact
Content that is aligned to the 2015 Professional Standards for Educational Leaders
Your choice of 10 assessments, each focusing on a different leadership dimension – hold multiple events within a school year for each of your district's initiatives
Instantly available participant reports – identify proficiencies in sub-categories of the specified leadership dimension. Certificate of completion for their learning portfolio
Question response feedback in an interactive visual format – review best practices and explains participants' scores
Worksheets for leading a small group exercise at the end of the session – detailed review of the urgent/complex issues from the assessment. 'AHA!' moments experienced by participants solidify learning
Private cohort discussion forum – achieve professional learning transference by sharing and continuing to learn beyond the one-day event
Facilitator guide that walks you through this 2.5 to 4.5 hour event step-by-step for easy implementation
Dedicated customer support person available by phone/email to set up your cohort and answer all of your questions
Custom administrator reports are available upon request. Additional fees apply based on information required. Contact us for details.
From now until the end of November, receive 20% off all ASAP InBasket purchases when you use the following coupon code at checkout: 11isllc15 → Shop Now and Save!
The ASAP InBasket has everything you need to host a successful PD event that gets them thinking, starts the conversation, and makes an impact. Schedule your ASAP InBasket events today!