The Accelerated School Administrator Program (ASAP®)
Educators know that differentiated instruction is effective instruction. It is responsive to the readiness, interests, and learning preferences of each individual. Why then do so many school districts provide professional development for educators as adult learners with the one-size-fits-all approach? It's not for lack of understanding about what works.
Special Offer
---
Unlimited access with ASAP Annual Subscriptions. Subscription pricing is affordable, based on district or LEA size (number of schools), and provides unlimited access to all of the following ASAP components:
The Educational Leadership Assessment
All 5 of the InBasket simulator assessments
16 Case Study assessments
18 Course Modules
14 Workbooks
Online Forums and more!
We know that constructivist teaching is based on the belief that learning occurs as learners are actively involved in a process of meaning and knowledge construction rather than passively receiving information. Learners are the makers of meaning and knowledge. Constructivist teaching fosters critical thinking and creates motivated and independent learners.
It is not uncommon for educators to attend conferences and events where they sit in a classroom-like environment, facing the same screen, or enroll in courses where everyone studies the same practices and the same content. Unfortunately, the reality is that this approach is easier to deliver. The beliefs persist that there is not enough time; that everyone needs to be grounded in the same principles and practices; and order and homogeny are required. Too often, overworked and under-resourced administrators can only focus their energy and time on making sure "everyone meets the standard."
Let's step back for a moment and apply the definition of differentiated instruction to our own needs as educators. Differentiated instruction and assessment is a framework for effective teaching that involves providing different educators with different avenues to learning (often in the same school or district) in terms of acquiring content; processing, constructing, or making sense of ideas; and developing teaching materials and assessment measures so that all educators can learn effectively.
At the Accelerated School Administrator Program (ASAP), that's what we do. We provide assessments for school leaders based on recognized school leadership standards, and the province in which the school or district is located. Data from these assessments, combined with self-identification of needs by the school leader, and observation and other data collected by the district, provides for data-driven decision making about educators.
The assessments are both summative (Educational Leadership Assessment) and formative (InBasket) and provide valuable insights that are linked directly to standards-based learning content (ASAP Course Modules), which can be assigned and accessed online within a blended program, are complementary to locally-offered instruction—providing effective differentiated learning for educators. Add access to a community forum of learners who can share experiences and knowledge, and ask questions and gain insights from their peers, and ASAP provides the core for a district-based, locally administered, differentiated professional development program. It is a resource toolkit in a multi-faceted professional learning strategy.
Data informs the professional development plan. Individualized learning provides differentiated instruction in competencies and practices custom to each learner. Cohort access to the InBasket and ASAP Course Modules based on the district learning plan ensures district needs are met by instruction and assessment in standards-based content areas.
Support your educators the same way you support your students, with differentiated instruction using ASAP® assessments, course modules, online forums and features which can be easily customized for each district.
The Educational Leadership Assessment (ELA) is a set of multiple choice tests based on the dimensions of educational leadership. The assessment is intended to identify individual strengths within each dimension, and areas of growth, for both potential and experienced administrators. Results can be used to make clear and relevant decisions to guide individualized study in a leadership program and to identify principal candidates by leadership potential and knowledge. The intended participant level for the assessment is primarily individuals holding a Master of Education degree.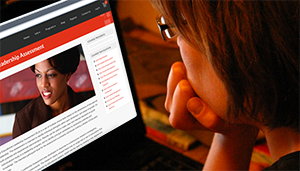 The Educational Leadership Assessment was developed in response to contemporary research investigating leadership assessment instruments. The research clearly showed there was no single test or set of instruments that would assess the full spectrum required by educational leaders. ASAP® met the need by creating a fully aligned and unique set of assessment instruments that have been used by school districts across North America for over ten years.
To better understand its design and what the assessment tool provides, please view the video on our YouTube channel.
Go To The ELA
There are 18 ASAP® learning content modules available, aligned to school leadership standards.

To view the syllabus for each course, click on the name of the course above.
Each course module provides an average of 10-15 clock hours for Continuing Education credit but takes up to 42 days to complete (based on our experience working with busy school administrators who have only a limited amount of available time for professional development).
This can be an impractical workload for some cohorts, and therefore professional development leaders typically select one or two modules for educators to work through over the school year, drawing connections to the face-to-face sessions they conduct, and selecting course materials from dimensions that best match the needs of their individual learners.
View All Course Modules
The InBasket is a simulator made up of a series of scenarios related to the dimension chosen by the participant or the cohort leader. There are five InBasket simulators from which to choose:

To view the details for each InBasket, click on the assessment name above.
View All InBasket Simulators
See How ASAP Fits Into Your District PD Program
Demonstration access is available at no charge to district Superintendents and professional development program leaders who wish to evaluate the program and content through the login information we provide upon request. Access is time-limited so we recommend to reviewers that they only request this access when they have available time to examine the program. Request demonstration access today!
Differentiate Educator Instruction in Your District with ASAP®
Get unlimited access for your district to the entire ASAP program, including the Educational Leadership Assessment, InBasket simulators, Course Modules, Workbooks, and Online Community Forums and make it easy for your PD staff to create differentiated learning plans for every educator in your district. An ASAP Annual Subscription makes this all possible!
Subscription pricing is based on the number of schools within the district or local educational agency (LEA).